Does it really make sense to cut corners and hire a less than qualified person to handle something as important as the safety of your family? Our certified inspections are very competitive and in-line with the most certified and insured inspectors across Colorado. We understand there are many costs attributed when buying a property, but with a property under contract, we know you want only the best for your new purchase. We base our pricing on type, size, and the age of the property.
If you want to make sure you have a professional inspection, may it be a home inspection, radon, commercial, mold, wood-destroying organism, well, or water intrusion, we are the best at what we do. All of our inspectors undergo a thorough training program and are trained by a Board Certified Master Inspector. We offer the best certified inspections in the area, as well as superior customer service. We continually learn and grow from our clients and realtor partners and implement changes immediately when needed.
You are our first priority, and we greatly appreciate your business. Please take the time to compare our qualifications and services, and you will see why Axium Inspections is the go to inspection company. We will match any competitor's price as long as they are certified through ASHI or NACHI and insured and bonded as we are. We guarantee the best price and service!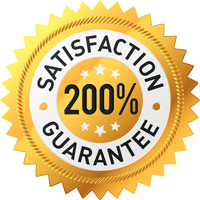 If you are not completely satisfied at the end of the home inspection, not only will we refund the home inspection fee, we will also pay for another certified home inspector of your choice to inspect the same house. We are so confident in what we do, we are willing to back it up with our 200% Home Inspection Guarantee!
Axium offers the BEST VALUE at the LOWEST PRICE, offering a 110% price match guarantee for any certified, bonded, and insured home inspector. We will match their price and beat it by 10%. Guaranteeing the lowest price and the best quality.
Complete Home Inspection
InterNACHI Certified Inspectors
InterNACHI Certified Inspectors

$2 Million in Errors and Omissions Insurance

$1 Million in General Liability Insurance

$25,000 Bonded Inspectors

110% Best Price Guarantee

Foundation and support structure

Fireplaces

Roof systems

Basement seepage

Safety controls

Water heater

Ventilation

Electrical capacity and components

Electrical panel and sub-panels

Walks and driveways

Built-in appliances

Structural integrity

Steps and stairs

Heating system

Central Air Conditioning system

Plumbing System and Fixtures

Garages, Carports, Workshops, or other external buildings

Surface drainage

Windows and doors

Insulation

Gutters and downspouts

Decks

Sump pumps
Call Now to Schedule
Complete Plus Inspection
Most Ordered Service
Inspection Cost + an additional $195
InterNACHI Certified Inspectors

200% Satisfaction Guarantee

$1 Million Errors & Omissions Insurance

$2 Million General Liability

+ Same Day or Next Day Scheduling
+ Preferred Scheduling: Early Morning, Evenings, Weekends, Holidays
+ Same Day Report – Normally an Additional $50
Premium Inspection Package
Best Value! $2000 Worth of Services!
Inspection Cost + an additional $495
(Does not include sample pricing due to the variation in properties)

InterNACHI Certified Inspectors

200% Satisfaction Guarantee

$1 Million Errors & Omissions Insurance

$2 Million General Liability

+ Same Day or Next Day Scheduling
+ Preferred Scheduling: Early Morning, Evenings, Weekends, Holidays
+ Same Day Report – Normally an Additional $50